Those dedicated followers (ie. the wifey), may recall last weeks false start for this race. I showed up, nobody else did, then I realized I was a week early. Well I checked and double checked the details and the race was definitely this weekend.
I woke up this morning, had my normal breakfast of grapefruit and kiwi with a cup of tea, and hit the road. I arrived 1.5 hours before the race start and it was all ready packed. I was able to find parking, but just barely. The start/finish for this race is from a small parking area off the trail. There was some side-of-the-road parking, which I was able to snag, but total, I'd say less than 100 parking spots are available there.
I grabbed my bib and walked around in the cold trying to stay warm for about an hour. About 8:30, there was a "huddle" from the race director where they discussed the race and it's significance. This race is put on by Back on My Feet, an outreach program to help homeless gain self confidence through running. After the huddle, we headed towards the start.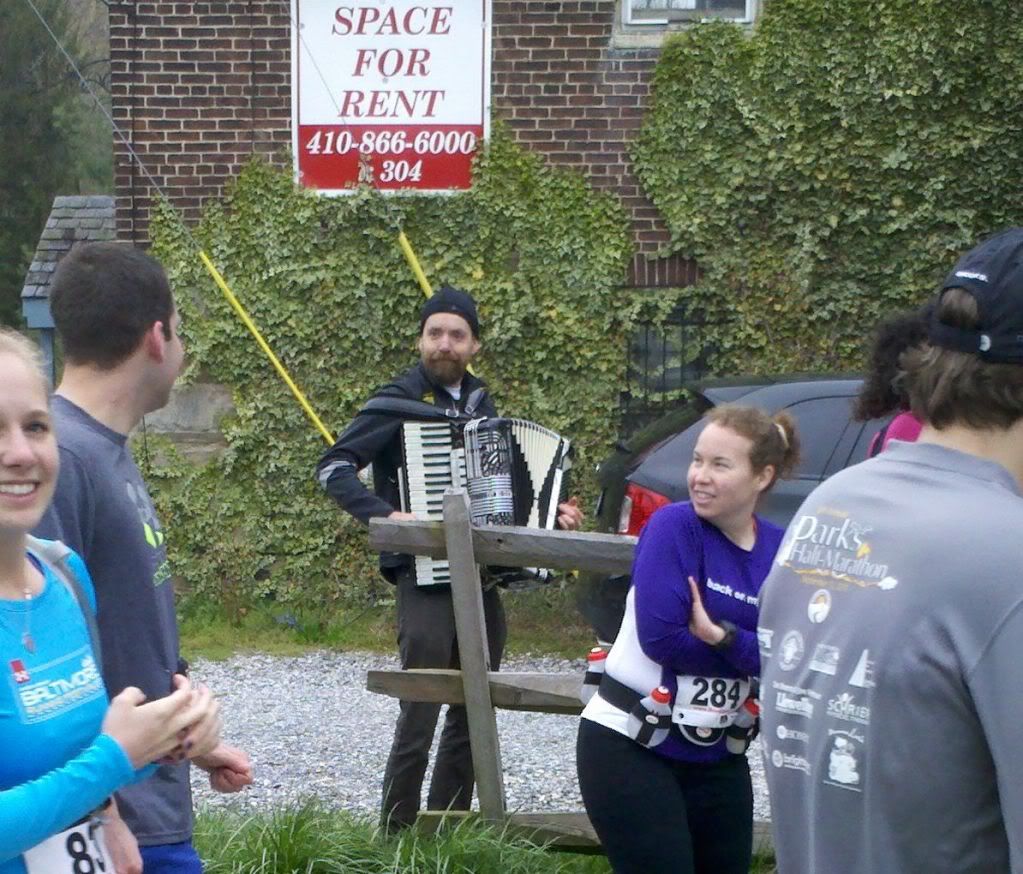 The race started with little fanfare, but while waiting in line, we did get to here some sweet renditions of music such as Johnny Cash's "Ring of Fire" played gracefully through this guys Accordion.
The race started and I immediately went into run/walk mode with a 1:30/1:00 interval. Within the first mile, I heard some dirty comments about my walking. It's so sad that the running world hasn't embarrassed run/walking as a valid form. I got my revenge on the turn around when I crossed paths on the return with these ladies when I passed them a good 5 minutes or more ahead of them and said "Good Job" with a rather large smile on my face. Ha! I always get weird looks and comments when I stop for a walk right at the beginning, but it was very evident in this race for some reason. It might be because of the reason for the race, motivation to get off your feet and persevere. Either way, I just smiled away and kept at it.
Mile 1-5
I'll admit it. I went out entirely too fast for these first few miles. It might have been to show those ladies that I wasn't giving up at the start, but I was flying. To give you an idea, I was running 1:30/1:00 intervals so effectively I was walking 40% of the time. Here is a breakdown of the miles:
| | |
| --- | --- |
| Mile 1 | 10:26 |
| Mile 2 | 9:50 |
| Mile 3 | 10:06 |
| Mile 4 | 10:21 |
| Mile 5 | 9:55 |
Those first few miles, it was crowded, very crowded, on such a small trail. I did the best I could to inform people as I passed them, but it was a challenge.
Miles 6-8
This is where the bulk of aid stations and cheering support came from. There were probably far more relay runners than full on half marathoners so the relay runners were out cheering on everyone. This was a fun part as well as the return runners were passing the outbound runners. Lots of "good jobs" and "you're doing greats". I also enjoyed passing the runners that were so rude early on. ha!
I slowed my pace down a bit when I realized I was going faster than I wanted. I was still feeling strong with no fatigue so far.
| | |
| --- | --- |
| Mile 6 | 10:45 |
| Mile 7 | 11:14 |
| Mile 8 | 10:45 |
Miles 9-10
Not too much to say about these miles, then went by without any significance. The pack was quite thin and we were spread pretty far apart. It was more like a normal run on the trail than anything.
| | |
| --- | --- |
| Mile 9 | 10:36 |
| Mile 10 | 10:54 |
Miles 11-13.1
Things started getting tougher here. My legs were getting tired and I was running low on energy. I kept up with the 1:30/1:00 but was seriously considering dropping down to a 1/1. Mile 12 was toughest. It felt like it was never going to end. I could have sworn I was going as slow as a snail, but looking at the numbers, I was still going pretty well. Mile 13 was a fair bit better. I knew the end was near and started pushing it harder to finish. I was running out of umph, but I still finished strong.
| | |
| --- | --- |
| Mile 11 | 11:10 |
| Mile 12 | 11:34 |
| Mile 13 | 11:29 |
| Mile .1 | 11:32 (pace not actual time) |
I finished in 2:23:54 seconds. That's a half marathon PR by 7:24. Heck yeah. I'm sure I could have made that as double digits had I ben more conservative in those first 5 miles. Oh well! Run and learn!
Overall, this was a good race. It was small, and few race goodies. There was no shirt and no finishing ribbon, just the feel good feeling of completion. I didn't stick around too long after I was done. I grabbed some snacks and hit the road. Would I do it again or recommend it to others? I would recommend it to others, but if they're run/walking, I'd issue a beware for some snide comments and looks. Personally, I'd rather do the other NCR Trail race in the fall than this one again.
Nathan Hydration Vest
Just a comment on my new hydration vest. I love it! It took a bit of adjusting to make it feel just right, but once I had that, it was great. It's not bulky and didn't weigh me down in the slightest. I loved having the front pockets to hold my phone/gels/etc. I'd highly recommend it if you're looking to carry a lot of water. Most likely I'll write a review in the future.